4 Employee Management Practices for Achieving Success as a Small Business Owner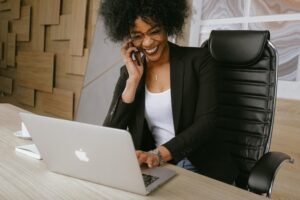 If you are a small business owner, there are tactics that can pave the road to success for you. For instance, obtaining membership in your local chamber of commerce is a move that nets you numerous advantages, including valuable connections, a boost in reputation and visibility and access to important resources like sponsorship packages. Implementing better cash flow management strategies is another beneficial practice (after all, research shows that
82% of small establishments collapse
because of issues with cash flow).
However, even with smart operational practices, a business is only as strong as it's employees. Staff are the backbone of any business. Poor management can lead to serious consequences like high worker turnover and decreased productivity. On the other hand, good management can result in higher employee morale and retention.
To ensure you stay on the path to success, here are four employee management practices to help you find success and achieve your dreams.
1. Make Your Employees' Lives Easier by Upgrading Your Payroll System
An automated payroll system benefits both you and your workers. It reduces inaccuracies and mistakes, raising the likelihood that employees will receive their proper wages on time. This in turn promotes a happier environment, resulting in greater productivity. If your enterprise is small enough that you just can't see the need in automating the process, then consider payroll templates. These can be used in tandem with employee schedules, invoicing systems, time tracking programs and other tools to streamline processes and make them easier, plus you get to keep your employees happy by paying on time.
2. Remember That Employees Are as Human as You Are
Respect is a two-way street. To receive it from your workers, you need to give it. Its presence in the workplace also fosters a climate of satisfaction, collaboration and fairness and reduces stress. Speak to your employees directly instead of down to them, and show them that you regard them as fellow professionals by listening to their feedback and incorporating viable suggestions. Also, keep in mind that they are people with lives of their own outside of work. They are not yours to command at inconvenient hours.
3. Build Your Employees Up
The best leaders motivate their followers to rise to challenges and exceed limitations. They understand that to coax out their full potential, they need to encourage them, not threaten or beat them down. You want to boost overall morale in the workplace. Set goals for your employees and hold regular reviews, but make sure to give constructive feedback with positive comments rather than just criticism. Create incentives and lead by example. Put the time and effort in to help them succeed and you will reap the rewards. Act as a mentor if needed. Offering advice and watching out for your workers can help them gain confidence and knowledge that, in turn, leads to both greater work quality and output.
4. Trust Your Employees and Delegate
Delegation will free up your time for more important tasks that only you can do. It will also spur growth in your business by teaching your employees new skills. They are also more likely to take delegated tasks more seriously since they hold more responsibility and are aware of it. Make sure to assign timelines and give feedback so they know what to direct their focus to.
Employee management is a vital component of any successful small business. Properly doing it can mean the difference between thriving and crashing and burning.
Even the strongest leaders can use additional support from time to time. Especially in order to effectively lead your team. To level up your leadership skills, connect with Accelerate Coaching and Consulting today!
---
---