How to Thrive as a Woman in the Workplace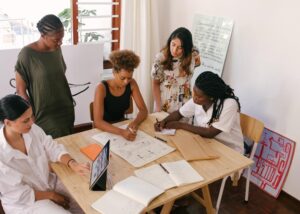 Women face a range of challenges in the workplace. Navigating gender bias, discrimination, and stereotypes can be exhausting. It's no secret that these barriers can hold women back from reaching their highest potential. But you deserve to work in a career that you find fulfilling and rewarding! Presented by Accelerate Coaching & Consulting, check out these tips to overcome these obstacles, get ahead, and build the career you've always wanted.
Know Your Value
Too many women undervalue themselves in the workplace, especially those in male-dominated industries.
Offer your opinion and feedback
Take credit for your work.
Ask for the promotions you know you deserve.
Never sacrifice your health and happiness for your career.
Don't be afraid of failure!
Pave Your Own Path
Launching your own business will help you break free from gender bias issues in the workplace and take complete control over your earning potential.
Be an Advocate for Other Women
Whether you're running your own business or filling a leadership role in your company, find ways to create a workplace culture that supports the women on your team.
Prioritize gender diversity in your hiring process.
Start a women's networking group at work.
Don't be afraid to talk about your salary with other co-workers.
Speak up for other women in your workplace.
Systemic issues with gender inequality won't go away overnight, but women everywhere are working hard to change things. Try not to let these obstacles get in your way! Speak up for yourself and other women in the workplace, ask for that promotion, or break the mold and start your own business!
---
---